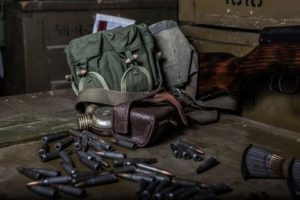 In the late 1800s a prospector from the Yukon arrived on the dusty streets of Vancouver, put down his pickaxe, and marked the spot where Lever Arms would open its doors over 50 years later.
We don't know him, but we're pretty sure it could have happened.
We do know that we opened our doors on Howe Street in 1949 and we've been family owned and operated ever since. It hasn't been the same family all these years – in fact, there have been two families – but we've always been independent, entrepreneurial, and dedicated to quality.
Today, our store on Burrard Street (and the website you're perusing right now) is the premier destination for firearms enthusiasts from not just across the province, but across the country. Generations of professional and competition shooters, hunters, and outdoor fanatics have made Lever Arms their first – and last – stop for military surplus and ammunition, exclusive in-house creations, handguns, shotguns, rifles, and more.
Our knowledgeable team is made up of experts in the field of firearms, with specialization in historical pieces, safety instruction, gun smithing, and competition shooting. We're here to answer your questions, help you choose your very first gun, locate that unique surplus piece you've always wanted, special order your dream rifle, custom fit your favourite piece with accessories, and much more…